Erik ten Hag: Manchester United manager aims for top four and trophies ahead of Premier League resumption | Football news
Erik ten Hag hopes his careful planning during the World Cup break will keep Manchester United on track for a top-four finish and silverware.
United, who ended a 38-day absence from competitive action in the 2–0 Carabao Cup fourth round victory over Burnley, will resume their Premier League campaign against Nottingham Forest at Old Trafford on 27 December.
In fifth place, United are three points out of the top four before the resumption and Ten Hag has left no stone unturned as he prepares for a ride into the Champions League qualifiers before the season ends.
When asked if the mid-season break was difficult, Ten Hag said: "It is. We had a plan on how to do it, how to manage the load on the players.
"It's all individual, no one is the same, no one had the same program or the same minutes, and they play in different positions and are of different ages. We tried to give everyone a plan, but we all know that the restart will be in five or six days after the World Cup final.
"The Premier League will resume very soon, so everyone has to be ready for that, the manager, the coaching staff and the players have to accept that.
"We want trophies, we want to have a strong team to compete for trophies. We have to adapt, do it smart and hopefully we can perform and get the right results."
United's progress in the Carabao Cup has bolstered Ten Hag's hopes of ending the club's wait for a first trophy since 2017.
Resuming their Premier League campaign with a win against Nottingham Forest is just as important, with a top-four finish needed to end their one-season Champions League hiatus.
Highlights of the fourth round match of the Carabao Cup between Manchester United and Burnley

The importance of such achievements, especially for a Manchester United manager, has not gone unnoticed by Ten Hag, who is bracing himself for the battle ahead.
"We are aware that the competition is tough, but it counts for all seven, eight clubs competing for the top four," said the Dutchman.
"For anyone watching the Premier League, it's great because it's going to be exciting. You have to fight for every game to get your points."
"I look at the process, how we perform – we need to get results – but if we make the right progress we have a good chance of being in the top four.
"I accept it [the pressure] how it is. But also, for Chelsea's manager, Newcastle United, all those clubs have also invested heavily in their squad.
"It's a lot of pressure for any manager to get into the Champions League. You want to be in the top four, you want to fight for trophies. That's our goal, that's clear."
Manchester United manager Erik ten Hag says he is happy with his side's 2-0 win against Burnley, but says there is room for improvement

Ten Hag could not confirm whether defenders Lisandro Martinez and Raphael Varane are available for Monday's game against Nottingham Forest.
Martinez was part of the Argentina squad that won the World Cup in Qatar at the expense of Varane's French team.
"I can't answer that," Ten Hag replied when asked about Martinez's availability. "He's still celebrating in Argentina! He's on a bus going through Buenos Aires!
"I can understand the emotions when you achieve this for your country. It's great, the highest you can achieve. But Licha Martinez also has to accept that the Premier League will continue on December 27."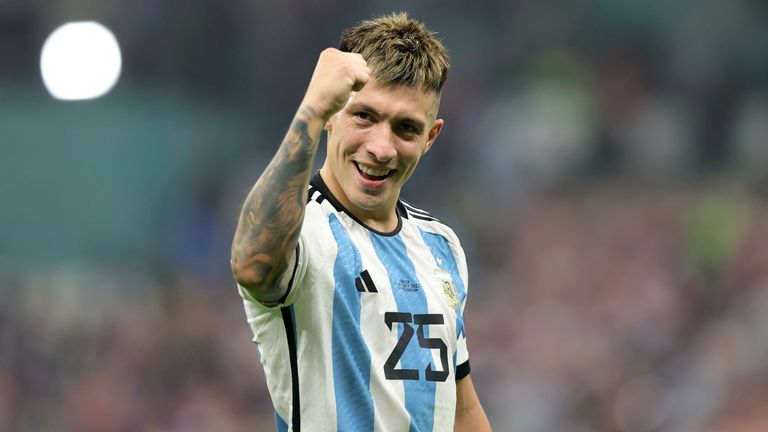 About Varane, Ten Hag added: "Of course he is disappointed about losing the final, but he can be proud to be in the final again. With everything he has achieved in his football career, it was a great achievement."
"When you win so many prizes [like he has]this time he came second but he can be so proud because reaching the final was a great achievement because the level of the countries was very close.
Ten Hag does not expect to have access to Jadon Sancho against Forest. The 22-year-old England international followed an individual training program during the World Cup and is said to have not yet returned to the club's Carrington training complex.