Heart Rate Slowing Drugs, Botox and Working Between Heartbeats: The Extreme Life of a 76-Year-Old Micro-Engraver | Ents & Arts News
Three nights a week, from midnight to about 5 a.m., micro-engraver Graham Short can be found in his home workshop, performing his unique, intricate work far from the potentially disastrous rumble of daytime traffic.
World famous for his microscopic works of art, the 76-year-old from Birmingham goes to great lengths to ensure that the conditions are perfect, from his handmade equipment to his undisturbed environment, and that he is also physically and mentally at his best to perform his carvings.
His extraordinary process not only includes nighttime hours – limited to just three nights a week "because of my age now I get tired – if I were a youngster it would be every night" – but also taking heart-slowing beta-blockers to keep himself as stable as possible . He even has botox to keep blinking and twitching at bay. (More on this later.)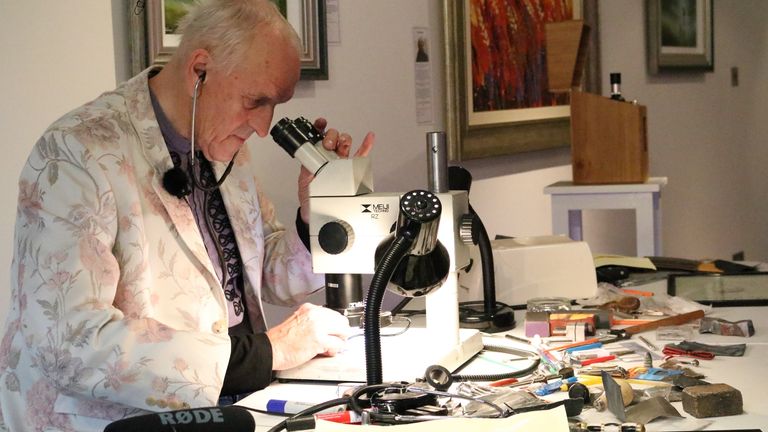 Known as the "hands of a genius", most of his pieces take about three months to complete, his smallest letters being just six microns (six-thousandths of a millimeter). "That's the size of a human red blood cell," he says. "A human hair is about 100 microns thick."
Timing, silence and patience are everything.
Short's recent works include a miniature portrait of Marilyn Monroe, made by punching 2,300 tiny holes in a £5 note, and a microscopic image believed to be the world's smallest nativity scene, engraved on a speck of gold in the eye of a needle.
"You're so cool!" he says a young girl told him when she saw the Christmas scene on display at St Laurence Church in Northfield, Birmingham. "There was screaming," he says. "I thought, that's nice, for a 76-year-old to finally be cool."
You may also remember that the artist made headlines in 2016when he circulated four of the then new £5 notes, featuring small portraits of author Jane Austen.
Having issued one in England, one in Wales, one in Scotland and one in Northern Ireland, art experts estimate the notes could be worth as much as £50,000 to the lucky finders; while three were discovered, the elusive English quintet spent in Melton Mowbray, Leicestershire, has yet to be retrieved. He performed a similar feat with notes with football player Harry Kane in 2018.
His work has led him to famous clients including Ronnie Barker, Stephen Fry, Uri Geller and even Kim Kardashian.
'If a truck passes by a few blocks away, I can feel it'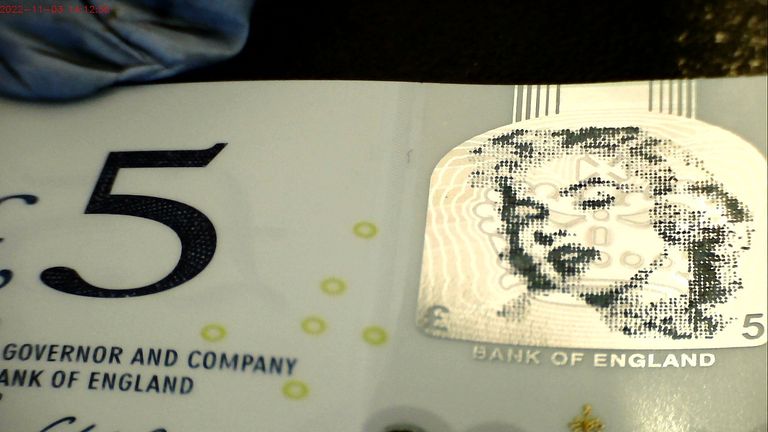 After leaving school at the age of 15, Short began his working life at a printing house in Bordesley Green in Birmingham, where his initial duties included making the tea and the unenviable task of emptying mouse traps.
But after his apprenticeship he moved on to engraving letterheads, his skill eventually leading him to work for Harrods, Fortnum & Mason, Goldman Sachs, Morgan Stanley and even Buckingham Palace and Downing Street, among others.
When hand-engraved stationery began to go out of style, he turned to a talent acquired as an apprentice on the shop floor, where he and his colleagues competed to see who could make the tiniest engravings.
His first micro-art work, a pin with the Lord's Prayer, was exhibited about 15 years ago; ever since, his little creations have made him a star in his field. But it all requires an enormous amount of dedication and patience.
"I work at night to avoid the vibrations of traffic," he says as he talks me through his creative process. "I work through a medical microscope, and it's so powerful that if a truck goes by a few blocks away, I can feel it…
"I always try to find ways to stay dead still. Recently I started looping a leather strap around my elbow; the other end goes around a heavy press next to me and I pull as hard as I can and that holds my hand absolutely stiff. But of course, if I'm not ready to engrave, which often happens, I have to rest because my arm hurts, and then I pick it up and go again. But as long as I'm dead still, I'm fine. Luckily I don't shake yet, at my age."
A five-hour overnight working window allows time for just seven or eight cuts for the smallest letters. "I have to wait for the right moment," he says. "That gives me a capital E and the letter F completed. It's really slow, but if I go a little bigger, I can go faster."
The nativity scene lasted about 40 hours, he says. "They last an average of three months, mostly because I slip and I have to re-polish and start over. They never go right from start to finish."
It's a question people always ask him: How does he deal with the frustration when he slips up? "Strangely, it doesn't bother me. I expect it to happen. It's part of the job."
'Hilarious' botox and working between heartbeats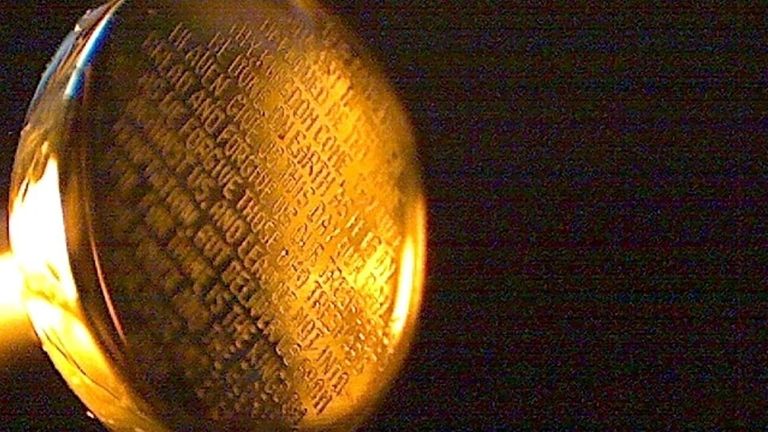 Short goes on to discuss the botox and says he has been undergoing the treatment regularly for over 10 years. He laughs as he shares his latest experience.
"Oh god, they laughed at me in church," he says, speaking of his visit to display his nativity scene. "I had only had it done for two weeks [earlier] and they put too much botox around my left eye. The left side of my face was firm and I couldn't smile, I could only grin with one side, I had a crooked smile. They thought it was hilarious."
As a procedure most often associated with anti-aging, I'm curious how an over-60s came to the decision to go under the needle.
"I was being interviewed on TV and a friend, a surgeon, was watching me," he says. "He saw that I was blinking faster than I should and he said 'that's not good for your job'."
Now Short maintains his botox every three months, "and it keeps my eyes absolutely stiff."
He also takes potassium, magnesium and beta blockers. "I confess that I eat them like candy, but I wear a stethoscope when I work and listen to my heart. Within just half an hour of taking the tablets, my heart rate drops rapidly to about 20 beats per minute. And that's when I'm trying to work, between heartbeats."
At this point there should probably be a "don't try this at home" warning, but the artist insists he's as fit as a fiddle. "I'm so healthy, it's unbelievable. I'm a swimmer and I actually swim [up to] Every day 10,000 meters in two sessions. A few years ago I was European champion in the 200 meter butterfly for my age and record holder in the 1,500 meter front crawl. So I'm really fit for my age."
Short later adds, "I know I'm going to the limit. I can't anymore, I'm at the limit."
Kim Kardashian, Stephen Fry – and convicted Catch Me If You Can fraud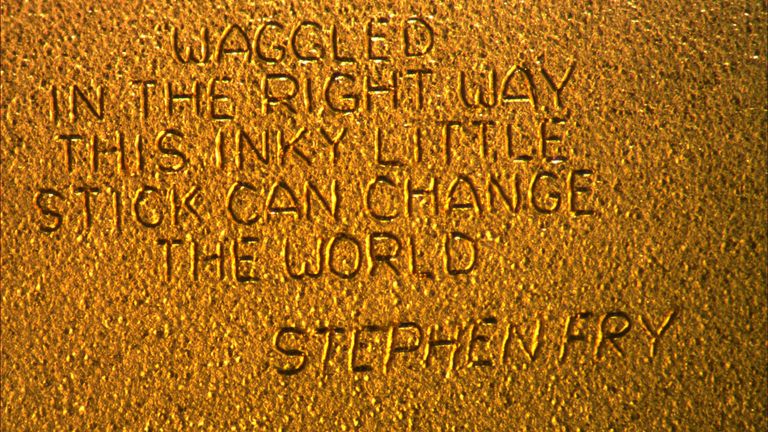 While there are other micro-artists in the world, Short believes he is the only engraver who does the kind of work he does. It has changed his life. "I've met so many interesting people and I now lecture all over the country. I have lots of funny anecdotes to tell people about the rich and famous I've worked with."
Ronnie Barker bought an engraved quote from Shakespeare on the tip of a paper clip, he says. He has also worked for Stephen Fry and now counts Uri Geller as his friend. A former manager even asked him to engrave a compass for Kardashian, he says, after the birth of her first child, daughter North West.
And the American con artist Frank Abagnale, who most will know from the portrayal of Leonardo DiCaprio in the 2002 film Catch Me If You Can, also got in touch.
"He emailed me 10 years ago," says Short. "It said, 'If I had your gift when I was younger, I would never have been caught.' I kept in touch with him and I told him six years ago when the new £5 notes came out what I was going to do. He said, "Don't touch it. It's the 1928 banking law. You'll be prosecuted for making the notes illegible.'"
Short took a chance and it all worked out. "Well … the police never came."