Liverpool transfer news: Jurgen Klopp laughs at Jude Bellingham left but 'prepared' for January window | Football news
Jurgen Klopp laughed at suggestions Liverpool could sign Jude Bellingham in January, but admitted the club is "prepared" for the upcoming transfer window.
Liverpool are closely linked with sought-after Borussia Dortmund midfielder Jude Bellingham to refresh their aging midfield.
But when asked if a deal for the 19-year-old should only be done in the summer rather than next month, Klopp laughed: "In January? I'm the wrong person to answer that."
However, the Reds boss has revealed that the club is ready for the window to open in January.
"January, in our situation, is a window from a sporting side, we are always prepared, it's always clear what kind of ideas we have or how the need is from our point of view," he added with Liverpool heading to Aston Villa in their first Premier League game since the World Cup.
Highlights of the fourth round match of the Carabao Cup between Manchester City and Liverpool.

"Everything else is not 100 per cent in our hands and we always work with what we have, and that will not change.
"You can imagine what situation we're in, what we're probably looking at. If something happens, we'll see it."
Ahead of Liverpool's 3-2 defeat to title rivals Manchester City in the Carabao Cup, Sky Sports' Jamie Carragher said Liverpool need to invest up to £250 million in their squad to compete at the top of the Premier League again.
But the former Reds defender fears the club's owners, Fenway Sports Group, don't have the money to sign the goals Klopp needs with FSG open to investing in the Merseyside club – although there are reports they are want to sell – and Carragher believes this is a sign they are taking steps to meet Klopp's demands.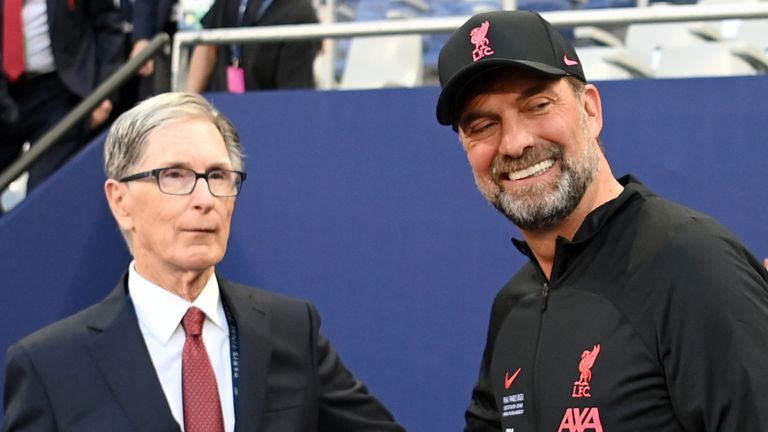 Asked if he thought Carragher's £250m estimate was correct, Klopp said: "I don't know exactly how much money you need, but I'm not against investment. We'll see what the future brings, nobody knows at the moment, but I am still convinced that we will be fine, the future looks bright for us.
"But at the moment we have to settle the situation. Nothing to do with future investments or investors, we have to settle the present and we are working on that."
'Liverpool must go all out on the transfer market'
Jamie Carragher says Jurgen Klopp will need significant sums in the summer transfer window to continue to compete with their rivals.

When asked if an acquisition is necessary to compete in the transfer market, Carragher says Sky Sports"It's interesting if it's a sale or if they need investment.
"There is no doubt that Jürgen Klopp has told the Liverpool owners: 'I need £200 million – £250 million to spend in the summer'.
"That sounds like an outrageous amount, but that's what Man Utd and Chelsea spent last summer. These are the amounts that Liverpool's rivals spend."
"I think probably once in Klopp's tenure Liverpool really went for it in the transfer market. I think it was after the first Champions League final that they bought a lot of players.
"I think it needs that right now. I don't think FSG has those funds right now and I think that's why they're looking for investments to come in and help them."