People have been forced from their homes because of a burst water pipe on a north London street.
The water main in Belsize Road, Camden burst at 2.50am, causing flooding of up to half a meter deep "over an area of ​​about half a mile," London Fire Brigade (LFB) said.
Several houses were flooded and firefighters had to bring about 20 people to safety. The LFB said eight fire engines and about 60 firefighters were on the scene.
LFB Deputy Assistant Commissioner Andy Williams said: "There are significant road closures and we are asking people to avoid the area where possible.
"The water board is in the process of isolating the burst water pipe and the fire brigade is expected to remain on site for a few more hours. Crews use storm surge barriers and a large pumping unit to drain flood water."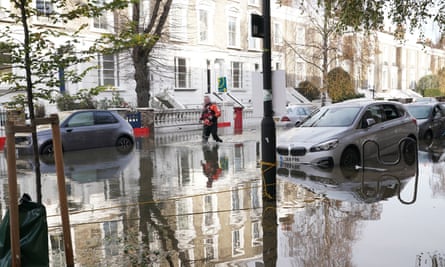 Cody Dolcy-Grant, of Hilgrove Road, at the end of Belsize Road, told the PA news agency she woke up to scenes "like the River Thames" outside.
"I wasn't aware of the situation until 7 a.m. when I went to the toilet, realized the toilet wasn't flushing and water wasn't coming out of the taps," said the 27-year-old, who is unemployed as a result. of a health condition.
"My way was flooded… When I opened the front door it was like a horror scene – fire engines all along my way, police, ambulance, and then I looked to the left and it was like the River Thames outside."
Dolcy-Grant lives on the second floor of her building, so her house wasn't flooded, but she said she still had no running water by noon, with all the shops on her street closed.
Footage shared on social media showed emergency services using small boats and helping residents wrapped in blankets to safety. A rest center has been set up in the Swiss Cottage recreation center nearby.
Thames Water said: "We are working with local emergency services to ensure all residents are safe first and foremost, while our engineers continue to shut down the pipe valves in the area.
'If your house has been flooded, we are very sorry, we know this must be very annoying. Our support teams are on their way to assist customers experiencing low pressure or no water."
PA Media contributed to this report