As someone who likes microtrends but is often slow to adopt them, the speed with which I searched for my first pair of platform UGGs surprised even me. And judging by retailers' inability to keep these boots in stock, I suspect I'm not the only one forced into action by these new additions to UGG's classic boot range.
Not sure what it's about? Read on for a review of the UGG Classic Mini Platform Boots.
WHY THE CLASSIC MINI PLATFORM BOOT & DESIGN DETAILS
Basically, what UGG has done is take their classic mini boot (reviewed here) and add a trendy chunky base to it. It is not a monumental design change, but a small adjustment that fits the spirit of the times. But throw in some celebrity pop shots, and you've got the makings of a viral item.
Like other classic UGG boots, the Classic Mini Platform Boots have a suede upper that has been treated for water repellency and stain resistance. The inside is lined with a soft and warm material called UGGplush, made of 80% wool and 20% lyocell*.
* the liner is 17mm thick, which is significant, but UGG started using this other material, known as "UGGplush" which uses a higher percentage of lyocell: 60% upcycled wool, 40% lyocell.
The 2″ platform is supported by the EVA midsole and UGG's patented SugarSole™ EVA outsole. Despite the sturdy base, the shoe feels stable and is almost as easy to walk in (on flat surfaces) as its platform-less siblings.
The classic UGG boot is easily identified by the tonal stitching on the outside and the UGG logo on the heel. The pull tabs at the back make it easy to put on and take off.
The Classic Mini Platform Boot is a surprisingly light shoe for a platform style, so it would be a great (not to mention fun!) option for everyday use in light outdoor activities.
This boot is best for dry conditions, and I would avoid this shoe if you expect to run on icy roads, as the sole does not have heavy studs or traction patterns that grip icy surfaces.
MATERIAL & CRAFTSMANSHIP
Boots in UGG's classic lineup are generally well made and, based on my experience, last between five and eight seasons; I usually don't retire them until the liner starts to thin out from (aggressively) cleaning the insoles. However, in the past few years, UGG has begun using its proprietary blend of (partially) faux sheep (called UGGplush) in classic boots, and it's unclear to me (after only two seasons) what the quality impact of this decision is.
Aside from UGGplush, the Classic Mini Platform Boots has another quality control issue that surprised me: the contrasting black platform is (slightly) stained on the side with the bright pink dye of the upper; this color transfer was clearly visible due to the high contrast. I would imagine this wouldn't be a problem in neutral colorways, but I want to mention it for the sake of completeness.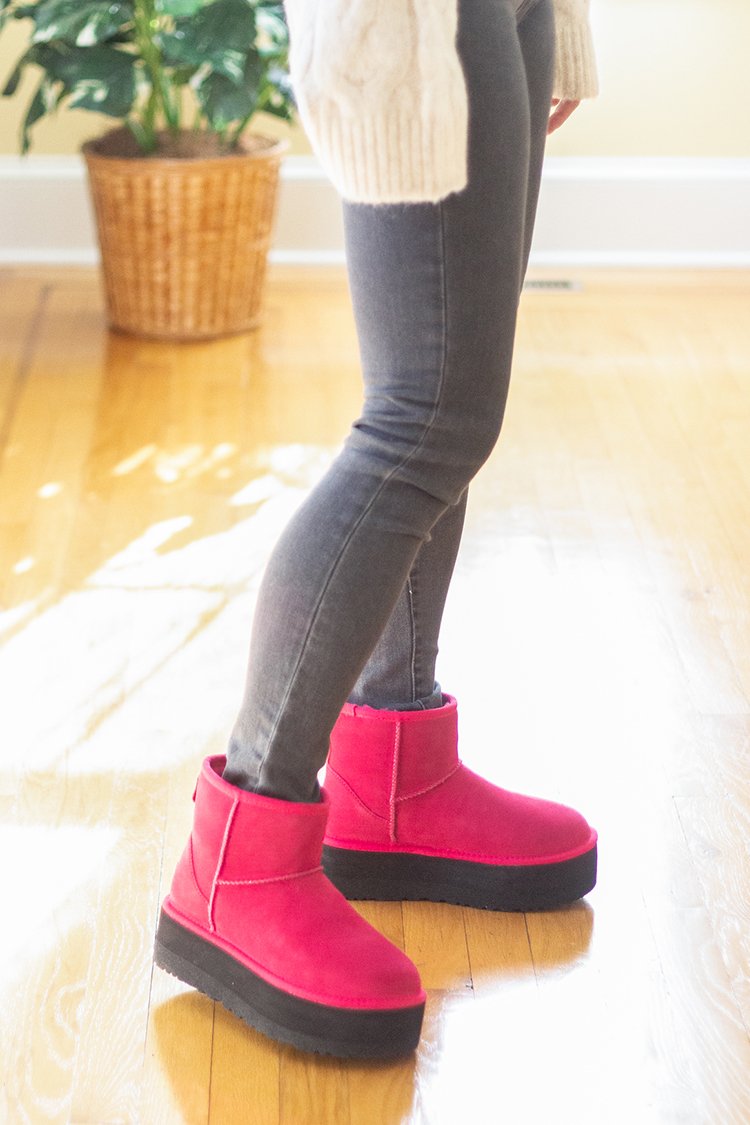 FIT
UGG classic boots are softly padded and only offered in whole sizes*, but they have a forgiving round toe so I'd recommend getting your normal size unless you have narrow feet. Also keep in mind that these boots stretch (slightly) with wear, so the shoes should hug your feet gently to begin with.
*Some fit guides suggest these boots run half a size larger, but I feel the difference in fit is closer to a quarter size. If you are in between sizes but have slightly wider feet, ordering a size larger may be more comfortable than the alternative.
If you wear a half size I would only recommend going down a size if you have narrow feet and plan on wearing these boots sockless. If you wear a half size but have wider feet and/or plan to wear winter socks with your UGGs, go up to the next full size.
The shortened shaft height of 5″ shouldn't be a problem for those with moderately high insteps or somewhat wide feet, but for those with very high insteps or extra wide feet (i.e. EE or EEE widths) this pull-on style may not be the easiest to put on or take off.
PRICE
You're undeniably paying a premium for the UGG brand at $160 a pair, but the Classic Mini Platform Boots in classic colourways is a well-made winter shoe that lets you enjoy this season's platform trend, too. Since this is a new style that is currently selling well for UGG, discounts are not likely, especially in a neutral colorway.
♥ ♥ ♥
UGG CLASSIC ULTRA MINI PLATFORM
UGG also offers the Classic Platform Boots with an "ultra mini" shaft of 3.5″ (compared to the 5″ shaft of the mini), for those who want to show off more ankle socks or fun socks. However, this style is selling like hot cakes, so if you're interested, check the UGG website regularly for new stocks.

ALTERNATIVES
Do UGG's Classic Mini Platform Boots feel too simple, even with the trendy platform? Try the UGG Neumel Heritage Platform Chukka Boot, which features lace-up details, or the Dr. Martens 2976 Platform Chelsea Boot with a faux fur lining and a tougher feel with a waxy leather upper and Goodyear trim with contrast stitching.
Love the look but not the price tag? Bearpaw offers a more affordable option, the Retro Shorty Bootie (<$100), which is similar in spec but without the UGG premium.

♥ ♥ ♥
You can buy the UGG Classic Mini Platform Boots from Amazon, Bloomingdale's (more colorways here), Dillard's, Farfetch, Macy's, Nordstrom, Saks Fifth Avenue and UGG.

♥ ♥ ♥
♥ ♥ ♥
Find here my comparison overview of UGG's Classic Mini Boots.